Item specifics
Model Number:

K1638
Product Desctiption
Stone and glass tile combine to form a union of style and function that will look beautiful in your kitchen as a backsplash and on your bathroom wall. Consider stone and glass backsplash options if you want a natural, modern look that matches the rest of your home.
Glass and stone tile are ideal in areas where there is a lot of water, like the bathroom or kitchen, or even around a pool and in an outdoor washroom. These elements make sense near water, and they create a watertight seal to lock out water. They are easy to keep clean and look beautiful even after heavy use. You can achieve the style and coherence you want in your home with one of our stone and glass mosaic tiles, regardless of your home's decor.
Each sheet of the stone glass mosaic tile is approximately 1 sq ft per sheet and has mesh mounted for easy installation of your mosaic tile projects.
Parameters of the Stone Glass Mosaic Tile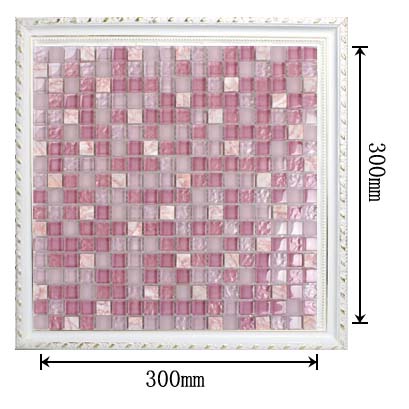 Collection: Stone Glass Mosaic Tiles
Material: Stone and Glass
Color: Pink
Surface Finish: Glossy, easy for cleaning
Shape: Square
Sheet Size: 300mmx300mm
Chip Size: 15mmx15mm
Thickness: 8mm
Type: Mosaic
Application: Stone glass mosaic tiles are impervious to the elements, thus it is great for both interior and exterior use so moisture is not an issue. Metallic mosaic tiles are great on floors and walls and have been most popular in bathrooms, spas, kitchen backsplash, wall facades and pools as well as a variety of other applications.
Characteristics: The stone glass mosaic tile has a zero water absorption rate, and this tile exceeds ANSI standards for water absorption for mosaic tile. It is strong, durable, contamination free, and only the best quality tiles are selected as our tiles are inspected for blemishes before shipment.
Enlarged Photos of the Metal Glass Mosaic Tile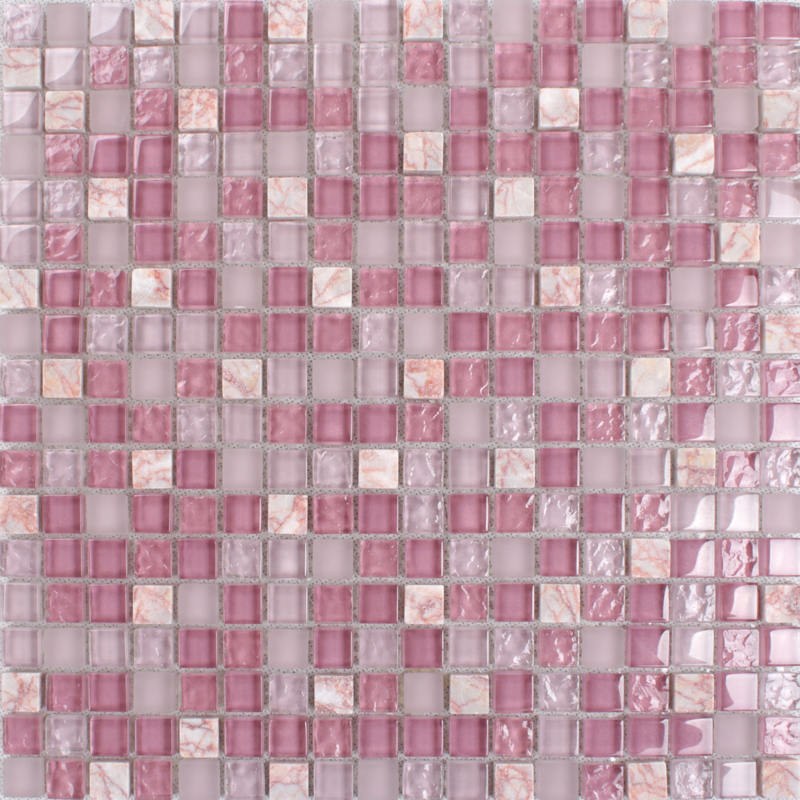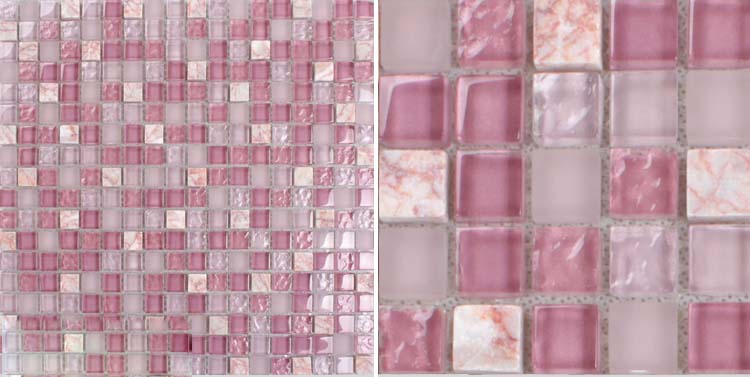 front side of the stone glass blend mosaic tile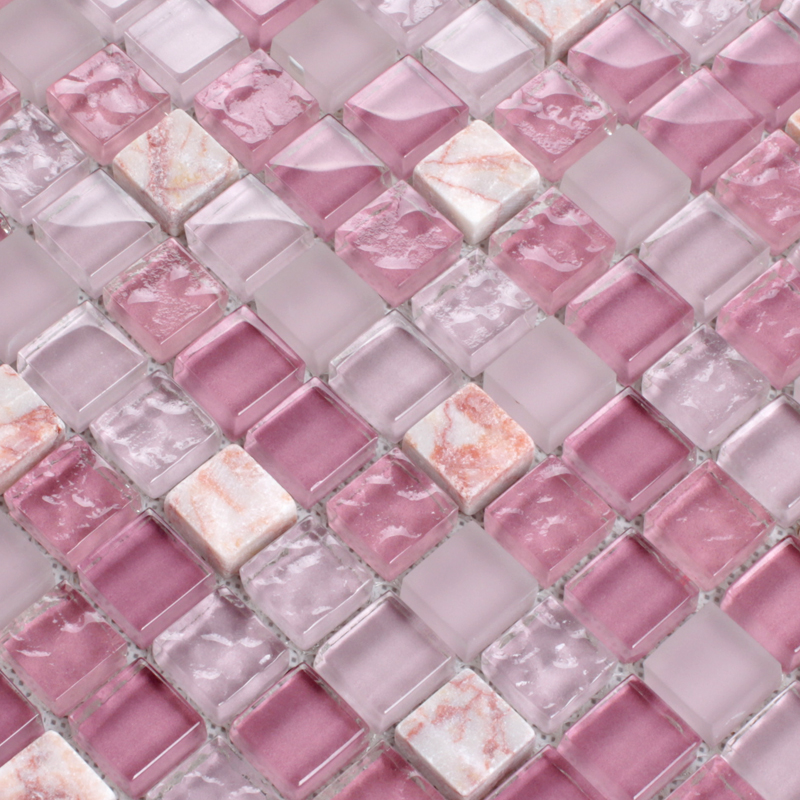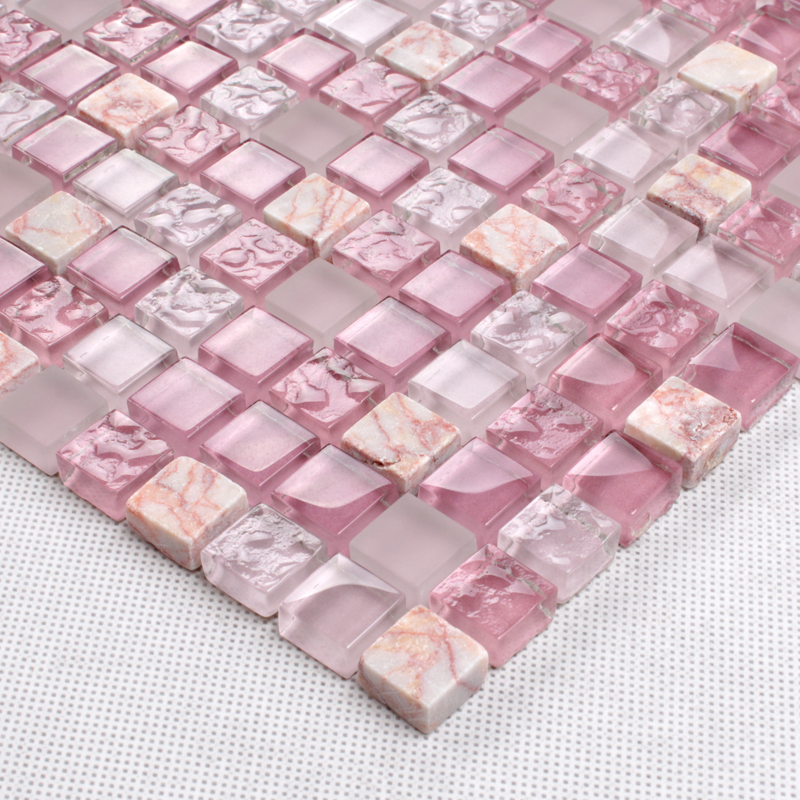 stone glass mosaic tile wall sticker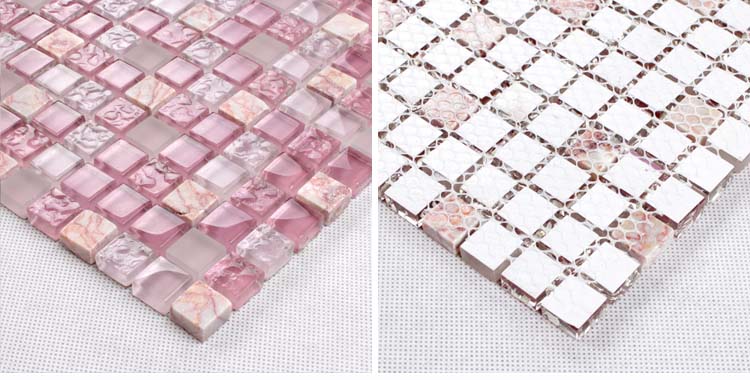 back of the glass and stone blend mosaic tiles(mesh mounted)
Project Scenes of the Stone Glass Mosaic Tile
Stone glass mosaic tiles are utilized widely by mainstream designers and architects as bathroom wall and floor tiles, kitchen backsplash wall tiles, hotel lobbies and reception areas wall and floor tiles, corporate office reception areas wall tiles. The natural iridescence adds the taste and richness to the design formula.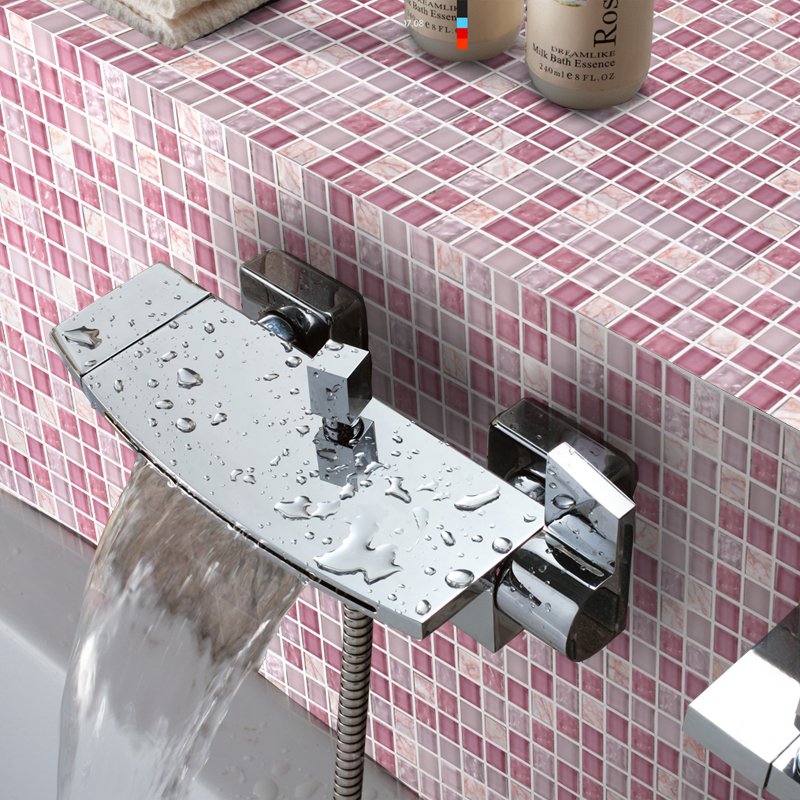 stone with glass blend for bathroom backsplash
Buyer Protection
protecting your purchase from click to delivery
What guarantees can I get?
Full Refund if you don't receive your order
You will get a full refund if your order does not arrive within the delivery time.
Refund or Keep items not as described
You can get a full refund if your item is significantly different from the description or You can choose a partial refund and keep the product.
Longer Protection +15 days
You get 15 extra days to make a refund request after your order has been completed.
Returns Extra Faultless Goods
You can return any product you have bought, even those in perfect condition, but you have a responsibility to pay the shipping costs.
Guaranteed Genuine 3x Money Back
If your purchase is found to be counterfeit, you can get up to three times the total amount you paid for it (shipping costs excluded).
Return Policy
Return Policy for all dehtile.com product lines
Dehtile.com put customers' satisfaction as top priority and will take good care of any mistakes on our end that lead to return or exchange.
Defective Product Received

In the unlikely case that your product is defective, please contact us as soon as possible and retain the defective item or items.

Our customer service team will work closely with you and we try our best to streamline the process to avoid any more hassles on you.

Please keep in mind that If there is any defect, please contact us prior to installation, installation of the products will be regarded as acceptance of products and void a defective claim for return.

Wrong Products Shipped/Product Arrives that is not what was ordered

If something is wrong with an order, our customer support team will always be there to help you.

If you believe that you have received something not in your order, please email contactus@dehtile.com on the first available business day.

Dehtile.com may request digital photos of the product received to validate product details, sizes, colors, patterns, etc. If it is determined that the product you have received is correct in terms of color, size, pattern, quality, etc. according to your order, dehtile.com will not be able to refund or exchange your product.

Please do not schedule installation of your products until after the product has been received and examined.

Product Damaged in Shipping

If products have been damaged in shipping, or are missing, dehtile.com will replace the damaged products or refund the price of the damaged products.

A. Visible damage or missing quantity when the product arrives

If there is visible damage to the packaging or there are missing pieces upon arrival, ask the driver to write a note on the waybill stating the damage and or missing product and ask him/her to sign for the notes before you sign the waybill. After signing the waybill, please contact us on the first available business day.

Our products are carefully packaged to avoid damage in shipping. Damage to products will virtually always be visible on the exterior of the pallet, crate, or lift.

B. Hidden damage but I have already signed off a way-bill which I did not indicate a damage?

Concealed damage must be reported to hominter.com within 2 business days. dehtile.com may ask for pictures of the damaged product or send an inspector to examine the damaged product.

I just change my mind without any reason or I just make up some reasons

You can still return the product even you just change your mind. And there is no difference between "changing your mind without any reason" and "changing your mind with a reason", you can still return your products.

However, since it is no fault from our end, customer will need to cover/handle return shipping cost. After items are returned and inspected by the warehouse, and the cabinets are in good and resalable condition, a credit after the 30% restocking fee will be issued to your account.